By Jay Hiller, September 16, 2023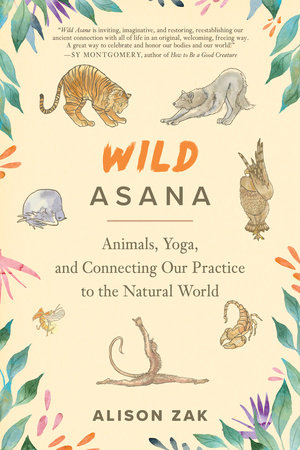 The writing in the book Wild Asana: Animals, Yoga and Connecting Our Practice to the Natural World is absolutely beautiful. In each chapter the author, Alison Zak, focuses on one yoga pose and connects it to the animal it's named after. Ms. Zak is an author, yoga teacher, anthropologist and executive director of the Human-Beaver Coexistence Fund. Writing about yoga must be difficult, because so much of the experience of practicing is about strong feelings that are so deep they're not easy to express through words. This book eloquently conveys a great deal of emotion, not just about yoga but about our relationship to the natural world. At the end of each chapter, she offers small practices related to that one pose. I loved that at the end of the chapter dedicated to pigeon she provides multiple ways to connect to and observe birds. I don't often think that yoga books are great books. This one is without a doubt. I think everyone should read it, even people who aren't interested in yoga or animals. It's that good.
This week's workouts:
I had another busy week. I managed to get in two weight lifting workouts and one 9-minute body weight workout. I did a lot of walking each day that fell into the category of incidental activity. And today, I pulled out the jump rope. I did a little yoga.
Subscribe here: